Ghana has been identified as a major transit site for illegal gold shipments.
Originally, a safety standards-oriented organization listed Ghana, Sudan, Ethiopia, and Uganda as main illegal gold trading routes on its unlawful trading data map, with export destinations including Switzerland, the United Arab Emirates, and India.
In its report on the global illicit economy, OriginAll noted that "Local gold refineries are being extensively used to launder gold from illicit sources in an artisanal mining sector involving several million people, forced labour, and high risks."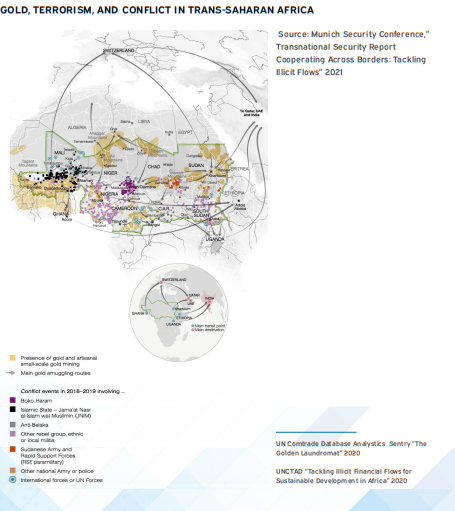 In an assessment of the trade data between Ghana and its three major gold trading partners—Switzerland, India and the United Arab Emirates — it was revealed that over $6 billion worth of gold exports remain unaccounted for from 2013 to 2016.
The figure is expected to rise significantly if all export and import data between all of Ghana's gold trading partners were to be examined.
For example, between 2013 and 2016, the gold import-export differential between Ghana and Switzerland was more over $3 billion.
While Switzerland's gold import numbers revealed that they imported about $7 billion in gold from Ghana, Ghana's official records showed an export of little more than $3 billion.
According to the Ministry of Lands and Natural Resources, Ghana loses approximately $2 billion each year in unpaid royalties and taxes on gold smuggled out of the country.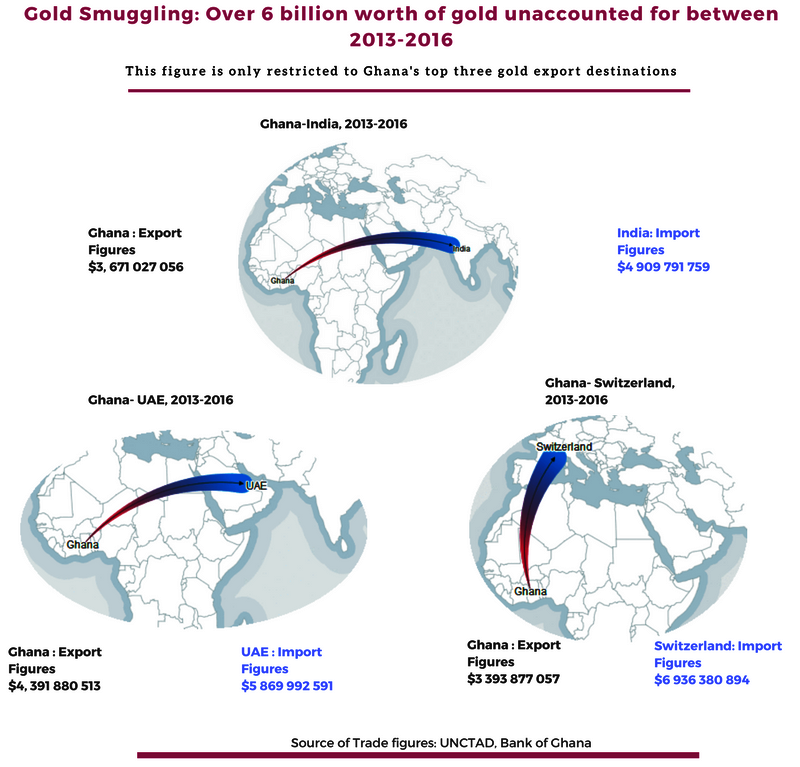 Originally has raised concern that "Illicit gold mining is becoming a rising source of income for cartels, criminal gangs, and non-state armed groups, with the mineral sector averaging 17 per cent of global threat and conflict finance, compared to drugs at 28 per cent."
According to the document, capital flight from the African mining sector has been assessed to be at least $50 billion, with a total range of $24 to 61 billion, compared to illicit oil exports of $7.65 to 37.5 billion.
Illicit yearly exports from Africa's extractive industries total at least $31 to $98 billion, compared to $32 to $62 billion from Latin America, where corporations typically pay 0 to 4% tax on official quantities.