According to the International Monetary Fund's April 2023 Regional Outlook Report, Ghana used over 45% of its total revenue, excluding grants, to pay interest in 2022.
This pushed the nation to the top spot in Sub-Saharan Africa.
The substantial public debt of the nation—estimated at $575 billion, or $44 billion, as of November 2023—was the cause of the hefty interest payments.
Even if the government stopped making interest payments on a few specific external debts, domestic debt nevertheless had extraordinarily high interest rates.
Now, the outcome of the external debt restructuring with its creditors — bilateral, multilateral, and Euro bondholders – will determine the interest payments to be made this year.
This may lead to suspension of some of the interest payments or extend the maturity period.
The government in 2023 announced it was highly debt distress, leading to a debt restructuring programme.
Meanwhile, Malawi and Zambia placed 2nd and 3rd respectively in Africa with the highest interest payments in 2022.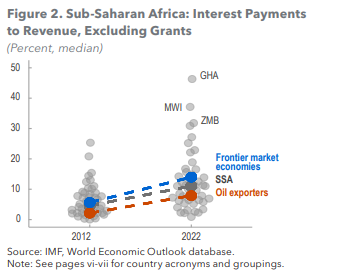 They were expected to have spent about 37% and 31% of their revenue excluding grants to pay interest payment.
Sub-Saharan Africa's public debt ratio at 56% of GDP reaches alarming levels
The IMF said sub-Saharan Africa's public debt ratio at 56 percent of Gross Domestic Product in 2022—has reached levels last seen in the early 2000s.
"Since the pandemic, the debt increase has been driven by widening fiscal deficits because of overlapping crises, slower growth, and exchange rate depreciations", it added.
Furthermore, the Fund said elevated public debt levels have raised concerns about debt sustainability, with 19 of the region's 35 low-income countries already in debt distress or facing high risk of debt distress in 2022—the same situation reported in the October 2022 Regional Economic Outlook: Sub-Saharan Africa.
Government spent ¢33.61bn on interest payments in 2021
In 2021, the government spent ¢33.61 billion on interest payments, the Bank of Ghana Monetary Policy Report disclosed.
According to the report, domestic interest payments accounted for 78.9% of the total interest payments. Total interest payments, however, constituted about 50.4% of domestic revenue.